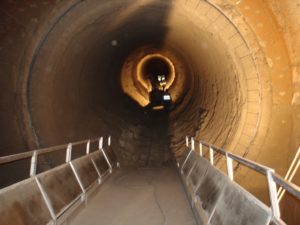 The scene is familiar.  Your crew steps onto the burn floor in preparation for kiln maintenance. The door is opened. The kiln is cooling down. The outage clock begins to tick.
Will your crew safely, easily, and quickly cross the gap between the burn floor and the kiln? Or has your kiln become an island?
Cement plants worldwide come up with many unusual ways to bridge that gap. Unfortunately, most solutions are heavy, cumbersome, and often unsafe.
Safety and time are critical issues in our industry today, yet so many decisions are based on trying to save pennies with quick fixes instead of saving dollars with safe and proper kiln access.
With safety as the priority, kiln access should be engineered taking in account the burn floor configuration to create a custom designed access which safely, easily, and quickly provides a ramp into the kiln.
With safety in mind, the design must meet local standards – plant, regional, national and international – reducing safe access concerns for your workers and putting a smile on your safety officer's face when checking your kiln access ramp.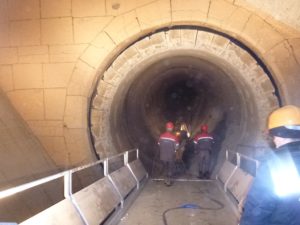 The time factor ticks by just behind the safety issue.  Think of the outage time saved with a lightweight ramp made of 6061 T6 aircraft aluminum when engineered and fabricated correctly is half the weight of steel.
Lighter equals less time and man power to install. Every minute saved installing and removing the kiln ramp reduces down time putting more profit on your bottom.
When looking for a modern kiln access ramp, there are a few other crucial questions to ask a potential manufacturer.
Do they have a reference list including years of experience and satisfied customers in the cement industry?
Is manufacturing of refractory access ramp the main business of the supplier? Does the aluminum ramp have a 15,000 lbs capacity with a 3:1 safety factor?
Does the ramp design allow a mini excavator to break off coating from the bridge section spanning the cooler?
Answers to those questions can bring up more questions as we all know not all burn floors are created equal. It's easy to design a ramp when there are no obstructions or elevation issues.
Straight access to the kiln is ideal, however not realistic. Unfortunately each burn floor and kiln presents many different engineering design problems.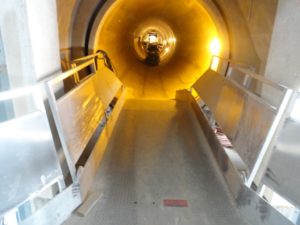 As a wise man once said "if you do a chemical analysis you will find a cucumber is 98% water, a strawberry is 98% water and river water is 98% water more or less.
Yet no one makes a salad out of river water, a dessert out of a cucumber or fills their swimming pool full of strawberries."
The point here is it's all about the details – big and small – whether you are selecting a new computer system to monitor your kiln, the appropriate refractory for your next outage, or a new aluminum kiln access ramp.