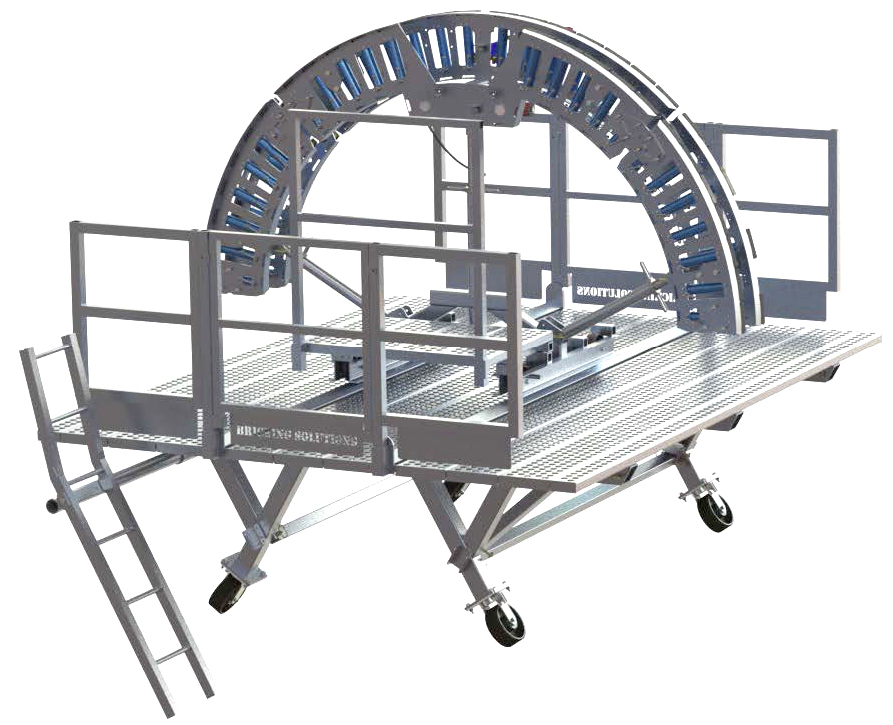 Bricking Solutions, a full solution provider of refractory installation equipment, offers the Ez Flexx50 Bricking Machine. The largest version weighs 3,100 pounds (1,406 kilograms), making it one of the lightest in the industry. Despite its weight, the bricking machine offers the highest load capacity on the market, as much as 13,200 pounds (5,987 kilograms) with a 17.1-foot (5.2-meter) work deck.
Bricking Solutions designed the Ez Flexx50 Bricking Machine without the many nuts, bolts and washers used for assembly of other machines, instead choosing a pin-together system coupled with redesigned, lightweight parts. This allows an experienced crew to assemble the machine in 60 to 90 minutes, compared to 6 to 8 hours for many competitive models. Like all Bricking Solutions equipment, the Ez Flexx50 is simple to assemble and maintain, and provides outstanding safety, productivity and ROI. The machine is available in standard, high-capacity and small sizes, each with available upgrades.
"We've been building bricking machines for over 50 years and have sold more than 1,000 worldwide," said Lars Lindgren, Bricking Solutions president. "That significant investment in time and learning about our customers has allowed us to develop one of the most innovative machines in the bricking installation industry. It's all about making refractory installation as easy, safe and profitable as possible."
Masons use the Ez Flexx50 Bricking Machine to quickly and safely install the upper half of refractory brick in kilns. Easily adjustable screw jacks support the unit's arch, eliminating the need for tools. The arch is mounted to a trolley cart that travels the entire length of the deck on wheels. Pneumatic cylinders push bricks into place, vastly reducing the risk of injuries from unsupported overhead bricks, which is common with other methods.
Bricking Solutions fabricates the Ez Flexx50 out of high-strength 6061-T6, aircraft-grade aluminum. The metal is as strong as steel, but weighs two-thirds less, making the machine the industry's lightest. Other manufacturers build bricking machines with a combination of steel and aluminum, resulting in almost 25 percent more weight than Bricking Solutions' largest model yet with less than half the loading capacity.
The Ez Flexx50 Bricking Machine offers the industry's largest capacities. The standard unit can hold as much as 8,800 pounds (3,992 kilograms) or as much as 13,200 pounds (5,987-kilograms) with an optional capacity upgrade. Installers can load the largest model's platform with three pallets of brick — totaling 10,185 pounds (4,620 kilograms) — as well as workers and tools, while maintaining a 3-to-1 safety factor.
Each model provides ample deck space. The largest Ez Flexx50's deck is 17.1 feet (5.2 meters) long ­— larger than any competitive machine. The standard unit's deck length is 14 feet (4.3 meters) long while the Ez Flexx50 Small provides 12 feet (3.65 meters) of deck length. The large area provides sufficient room for bricks and workers, minimizing brick handling. This also improves productivity and reduces brick damage and loss associated with the constant material handling required with smaller decks. In addition, any Bricking Solutions machine designed for kilns 15.7 feet (4.8 meters) in diameter and larger provides enough clearance beneath the scaffolding for forklift access.
Setup and teardown times are also the industry's best thanks to lightweight and interchangeable symmetrical components. Heavy-duty hitch pins and clevis pins, rather than bolts, hold components together, which further improves setup and teardown speed. The lower weight also makes the machine easy to move.
The standard Ez Flexx50 Bricking Machine comes in a variety of adjustable and fixed configurations for use in 12- to 25-foot (3.6- to 7.6-meter) diameter kilns. The largest adjustable model can adapt up to 6.6 feet (2 meters). Rather than a "one-size-fits-all" approach, the machine's custom size minimizes parts and improves efficiency, lowers maintenance and extends service life.
The Ez Flexx50 Small Bricking Machine is sized for use in 10- to 13-foot (3- to 4-meter) diameter kilns. The machine weighs 1,300 pounds (590 kilograms) and features capacity to hold a 3,395-pound (1,540-kilogram) pallet of brick plus workers and tools.
Keying is simple with the Ez Flexx50. It is the only bricking machine in the industry to include an ergonomic cut-away section in the front arch to allow keying access to close out a ring. Bricking Solutions also designed an ergonomic stair step on the trolley to allow the key mason to easily place brick in the cut away section of the arch and install shims. Other machines require the key mason to close out the ring while the front arch is in the way, taking more time. The machine's double arches support two rings at once for efficient installation, allowing masons to start installing the next ring while the previous is keyed out.
Rubber bumpers articulate to align flush with the brick face and follow the brickwork, which ensures a tight installation. These features allow an experienced crew to install 3.3 feet (1 meter) of brick per hour, compared to roughly .6 meters per hour with other techniques. In addition, the arches feature an open design for 10-minute change-outs of cylinders when needed.
As opposed to rigid and non-adjustable arches, installers can easily adjust the arch up and down, or add and remove panels, using the Ez Flexx50's dual arch components. This unique design allows masons to easily adjust the arch segments to accommodate kiln distortion, conical sections or ovality. The machine's dual master valves allow masons to extend or retract all of the cylinders at once rather than having to actuate each cylinder individually.
Polyurethane double wheels with brakes support the structure and allow users to move the machine within the kiln. This minimizes the risk of brick damage, which is common with hard rubber wheels. The four-position casters also allow installers to rotate the kiln while the machine stays in place.
Bricking Solutions builds the Ez Flexx50 Bricking Machine for industry-leading safety. This includes a non-slip deck, a dual braking system and fall guards. In addition, the bricking machine method is far safer in confined spaces than more manual methods such as jack and timber, bolt and timber, pogo stick, mechanical jack screws or gluing. The Ez Flexx50's cylinders include safety check valves to maintain pressure in case of sudden air loss.
Bricking Solutions offers upgrades for the Bricking Machine, including a movable work table, a 20-foot (6.4-meter) steel storage container, tool trays, LED lights, an up-kiln ladder and more.
Contact us here for more information.