Our ergonomic rolling deck greatly improves kiln lining performance.  It is easy to assemble and move inside the kiln, and it will safely support the men and materials needed to install the brick rings up to the spring line.
It is manufactured in durable 6061-T6 (aircraft grade) aluminum. This means it will be robust yet maneuverable.  A typical deck will have a load capacity of 2,720 Kg (6,600 lb).  Safety rails are a standard feature as are kick brakes on the castors keeping the platform stable. Pin connectors help with quick and easy assembly.  Steps make the installation process safe and easy for the masons.
We design each rolling deck to meet the needs of your kiln and would be happy to quote for your requirements. Our equipment is ANSI, MSHA, CE and CSA compliant.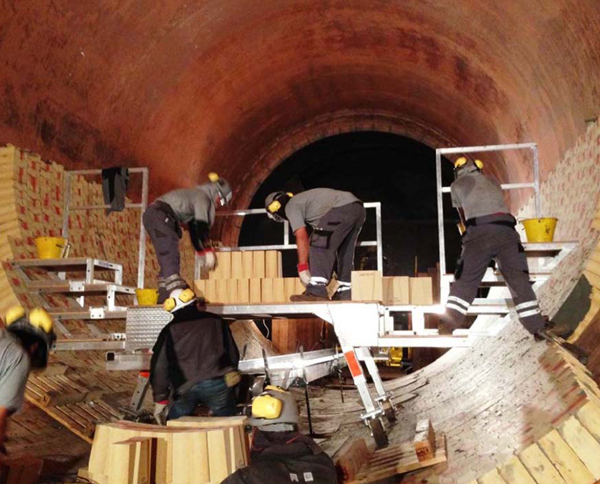 Structural Components 6061-T6 Aluminum
Load Capacity 2,720 kg (6,600 lb)
Polyurethane Double wheels with brake
Safety Fall Guards
ANSI, MSHA, CE and CSA compliant
Ergonomic Step Design up to spring line
Pin connections for quick assembly and disassembly
Hitch Rings in front to pull cart up kiln with a winch
Room for workers, tools, and staging brick
Custom designed for specific kiln diameters